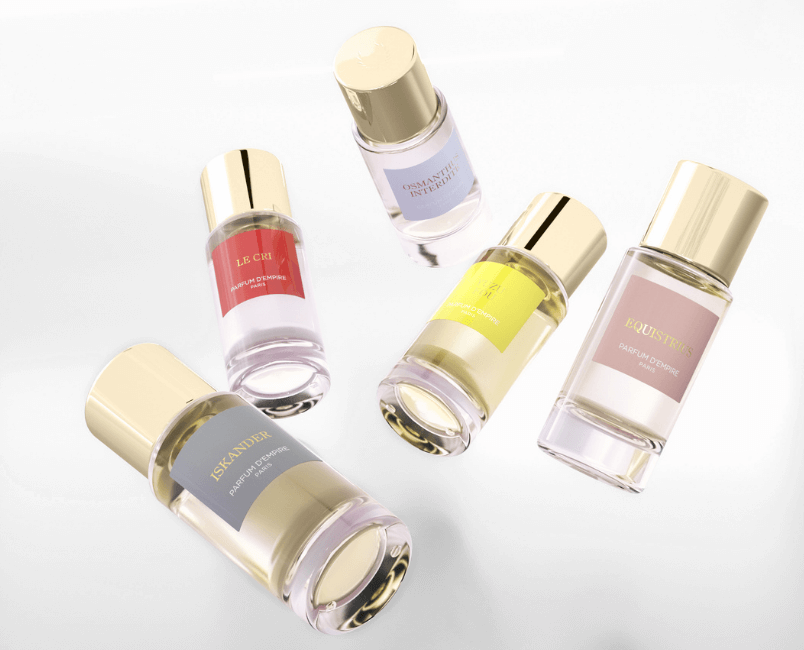 PARFUM D EMPIRE
From time immemorial and in every culture, perfume has been about seduction and spirituality. With Parfum d'Empire, I wanted to bring it back its original meaning, its erotic and sacred origins. Amorous conquest, spiritual conquest, self-conquest: perfume is a conquest, perfume is an exploration.
Classic Collection
Amorous conquest, spiritual conquest, self-conquest… Perfume is a quest, perfume is an exploration. To achieve this conquest, Parfum d'Empire goes back to the original sense of scent, from time immemorial and in every culture: seduction and spirituality. Parfum d'Empire, the power of the noblest raw materials pushed to excess.
L'héritage Corse
Parfum d'Empire moves forward by going back to its roots; to the glorious island Marc-Antoine Corticchiato's hails from: Corsica. The collection L'Héritage Corse is a tribute to its natural beauty, to its energy. To the fragrances that define its scent-scape from the rugged seaside to the untamed maquis and proud mountains. The soul of a land as fiercely free-spirited as the founder of Parfum d'Empire. The very DNA of an artisan perfume house that has remained faithful, throughout the years, to its creative freedom. Inspired by the island's aromatic plants, L'Héritage Corse is presented in Parfum d'Empire's streamlined bottle, adorned with a stylized Genoese tower, like those that dot the coasts of the Corsica since the Renaissance. The box reprises the same motif on embossed paper, an echo of Marc-Antoine Corticchiato's richly textured compositions.
Everything about
PARFUM D EMPIRE
To give a contemporary expression to this tradition, I draw on the noblest of raw materials, but also on my emotions and on my intuition, because nothing is more universal than what is most intimate. The breath of the gods and the emotion of the flesh… My scents are an invitation to explore the most complex and mysterious of empires: the realm of the senses." says Marc-Antoine Corticchiato, the creator of Parfum d'Empire.
Marc-Antoine Corticchiato's profile is an unusual one: he is both a perfumer whose fragrances conjure intensely sensuous worlds, and a scientist who has studied the secrets of scent production in aromatic plants. His fascination for the noblest raw materials and their history in different cultures has driven him to explore the realm of the most mysterious of our senses: the realm of perfume.