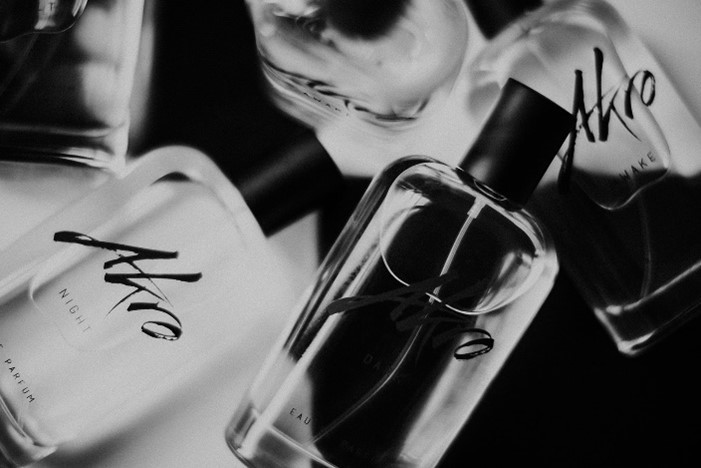 AKRO
Haze, Smoke, Awake, Dark, Malt, Night, Ink.
Addictions become perfumes. Bottled, without restraint or moderation. A concentrate of impertinence. AKRO was born in London, the effect is immediate: AKRO draws its identity from London. A cocktail of rebellion and originality between shadows and mysteries. Its assertive style, AKRO also owes it to Paris.
From London shock to Parisian chic, the encounter is electric. It shakes up the codes of fashion from the Marais to Saint-Germain, heckles the know-how of French perfumes, exacerbates the creative effervescence of the capital.
AKRO is none other than the forbidden fruit of this dual membership.
Three.
Anais Cresp. Olivier Cresp. Jack Miskelly.
Daughter and father. Partner. An addictive lineage.
Anaïs Cresp is a graduate in interior architecture and design. She grew up in the world of perfume. An air breathed in family. No bans, passion, daring and curiosity: highly bewitching and addictive ingredients.
A concept nourished by the casualness of Anaïs and the meeting with Jack Miskelly. Brand ambassador and spokesperson. Native of London. The missing piece of the puzzle. It is with the complicity of his father, Olivier Cresp, that each fragrance asserts itself. Experimental perfumer, his revolution is called Angel (Thierry Mugler, 1992). Before him, no one had dared. With his experience and his talent, he decided to take up the challenge of representing seven addictions olfactorily. To give an odor to temptation, to addiction. It is with powerful chords, striking silages and a hint of overdose that it gets there.
AKRO then takes lives.
Seven fragrances. Extraordinary.