Rose America
Vous devez être connecter à votre compte client
Description
Let's close our eyes for just an instant. There is a house facing the ocean. It's summertime. Turn the key ; there is silence and darkness. The shudders open toward the light and you blink at the sun. Upstairs, the first bedrooms start to come to life. The windows open and suddenly a scent surprises you. A rosy breeze blends with the clean smell of fresh sheets. Rose America is a confident rose, an integral part of a savage landscape, is what we have tamed.
Alcohol Denat (SD Alcohol 39C) - Parfum (Fragrance) - Aqua (Water)- Butyl Methoxydibenzoylmethane -Ethylhexyl Methoxycinnamate - Ethyhexyl Salicylate - Citronellol- Geraniol -Anise Alcohol - Benzyl Alcohol - Benzyl Benzoate -
Citral -
Eugenol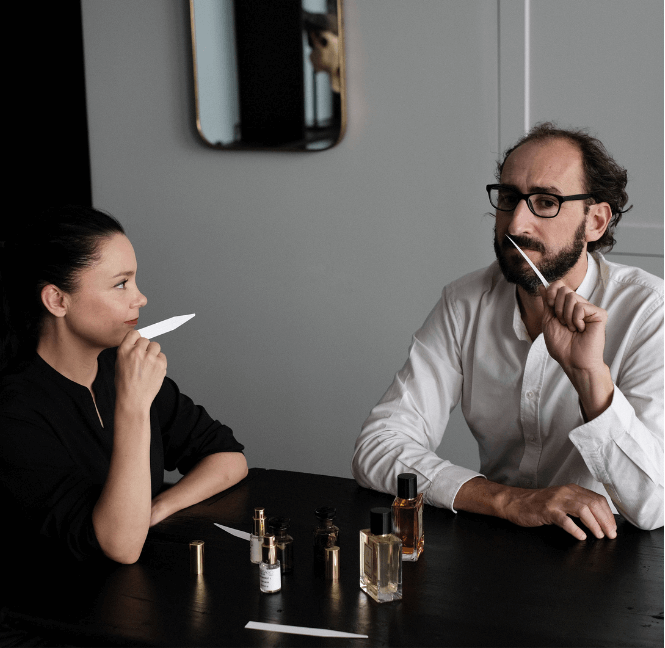 Alexandra & Philippe
Creators' Word
"The first time we met Annick Menardo, she told us about roses with a sparkle in her eyes. She explained to us that each perfumer has his flagship ingredient, his absolute. The rose was definitely her favorite material to work with. We weren't necessarily very comfortable with this flower which we found either too starched with its 'tea time' side or too much with its overdosed oriental versions. There was this story in Montauk of this rose (Rosa Rugosa) which grows in the dunes and has to face the strength of the sea. Annick Menardo had this idea of ​​a salty, peppery rose which will soften at the moment, when his heart opens. A modern rose, with that note of raspberry, infused tea. The rose absolute that Annick Menardo used is very pure with a fairly heavy molecular composition. She takes her time to reveal herself. And ends up waking up with a soft, airy wake."