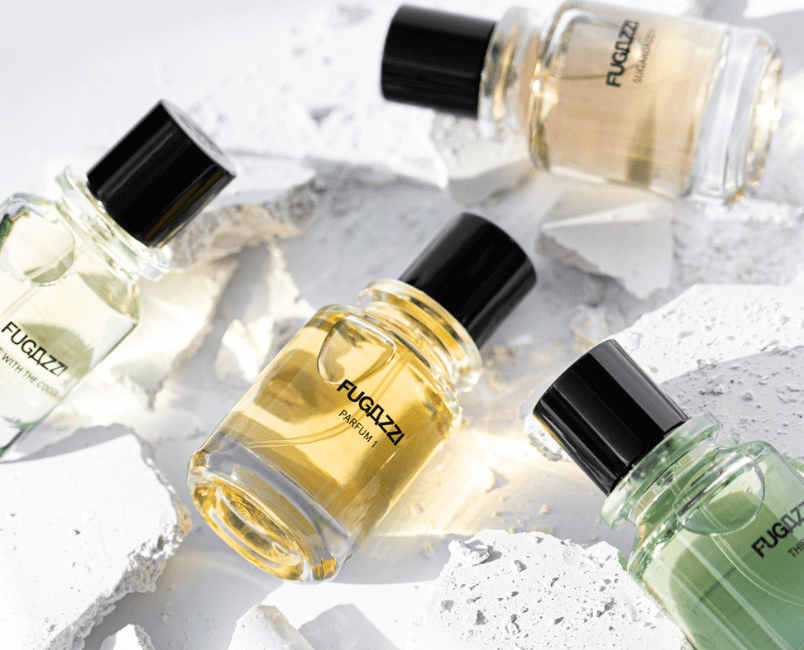 FUGAZZI
From Amsterdam to the World.
Fugazzi is a new concept fragrance brand for all genders. As fashion and beauty sectors become ever more minimalist and homogenised, Fugazzi's founder, Bram Niessink, saw a niche for a new breed of fragrance house: one with personality, one unafraid to take risks.
The power of perfume has been important in human culture since time immemorial, and it was Niessink's travels through the wonders of ancient Egypt with his grandfather that lit the fire of his imagination. The mission: to create scents from pure, cruelty and paraben free ingredients worthy of the pharaohs.
Fugazzi is exclusively produced from up to 50% ultra-long lasting extrait de parfum, allowing the wearer a timeless fragrance experience. Uniquely, the fragrances contain two odourless plant-based ingredients that, when synergistically combined in a closely guarded blend, have positive effects on the wellbeing of the wearer, inducing significant reductions in feelings of nervousness and tension. The root of the perennial herb Makandi forskolin, Coleus forskohlii, a member of the mint family, has been used since ancient times in Indian Ayurvedic medicine. Black tea, Camellia sinensis, native to Southeast Asia has been used for over 5000 years as a tonic, gaining near mystical status in rituals.
The name, 'Fugazzi,' itself conjures mystery. A play on 70's Italian-American parlance 'fugazi', meaning 'fake', the word was subsequently embraced by youth culture and silver screen mafioso. Extra meta, spelling the word with the double Z makes a fake word of a word meaning 'fake'. In truth, 'Fugazzi' is designed to be purposefully abstract. The irony is, Fugazzi couldn't be more real. The philosophy of Fugazzi is to empower the wearer to create their own story. As a play or film is classically structured into three acts, so too Fugazzi fragrances have their own beginning, middle, and end - an organic life cycle of base, heart, and top notes.